It's fair to say that for many organizations, sales and marketing have been (and in some cases still are) "frenemies." Traditionally, marketing serves as a primer, addressing (or informing) a customer's need and warming them up for sales to move in with smooth talk and enticing deals. True collaboration between the teams may even be limited to brief interactions on lead generation and sales enablement.
It's also true that saying that the world is changing is an understatement. Over the past couple of years in particular it's changed a few times over. But in a post-pandemic world,  as in-person conferences are starting back up and customer expectations are sky-high for engaging digital content, sales and marketing teams are revving up to revive a tried-and-true way of working that's…no longer so true.
Because customer journeys have also changed. The marketing-to-sales warm lead handoff is no longer relevant. And that means that old adversarial thinking between sales and marketing has to change if organizations want to be able to cater to customer needs and prove themselves to be sustainable in an increasingly competitive and complex modern market landscape.
A Continuous Engagement Go-To-Market Strategy
It's no secret that customers and buyers are doing their own due diligence without anyone from your organization in the mix. In fact, a Gartner insight report indicates B2B buyers spend less than 25% of their time directly interacting with suppliers. Translation: customers will contact you on their own time on their own terms. So if sales and marketing are expecting a direct path through a few short marketing materials before  conversion, you risk your organization being left behind.
Here's what really matters: meeting the customer, and any other buying influencers, where they are. It sounds old hat to marketing professionals, but there's a reason it gets repeated. It works. Especially these days, when the pandemic has accelerated online opportunities and altered customer behavior to the point that they're the drivers in their journey with your organization.
There's been debate on whether that customer journey should still be viewed as a funnel or if it's more accurately described as a flywheel. The funnel view is linear; point A to point B, north to south, top to bottom. It has a hierarchical feel, which may contribute to some of the sales and marketing silos.
The flywheel view assumes a circular, self-sustaining approach. It puts customers at the core, intersecting with you as needed, and (this is important) maintaining their relationship with your organization long after the (first) sale is final.
B2B Buyer Journey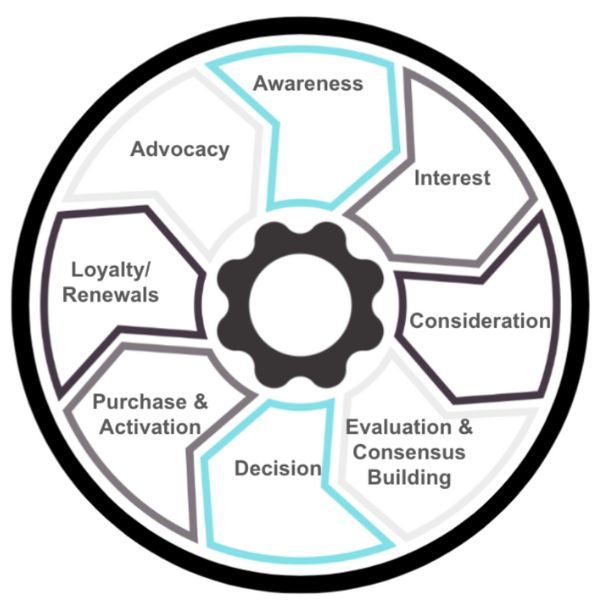 That means that instead of standing at the ready in their designated layers of the funnel, sales and marketing teams need to be standing next to each other. This ensures that whenever and wherever a customer chooses to interact with you, they find all the resources they need to support their journey: from product sheets to live demos, webinars, sizzle videos, and live chatting. 
Where Sales and Marketing Can Unite
As logical as facilitating better teamwork sounds, it may not seem practical or even possible in some organizations. Although most of us don't work in an environment where sales and marketing are actively pitted against one another, we probably also don't work in one where they consider themselves a fully integrated team.
There's a middle ground, however, where every organization can take advantage of critical moments in go-to-market (GTM) planning to ensure sales and marketing start acting more like colleagues than adversaries. The victors then become those teams, your organization, and, of course, your customers. 
So, what are these areas of potential agreement? 
Collaborating on Competitive Intelligence
Many times I've seen a company's individuals—in sales or marketing—take competitive intelligence into their own hands: sharing competitor moves and insights helpfully, but without a cohesive strategy or centralized knowledge base. This leaves a lot of room for bias, blind spots, and incomplete detail. 
Instead, a shared competitive intelligence program incorporates input from both teams on markets, competitors, and competitor products. Robust research of competitor details are then aggregated, tracked, summarized, and formulated into meaningful insights or snapshots for both teams, leading to a shared understanding of competitors and clearer positioning through the buyer journey.
Aligning on the Ideal Customer Profile
Most times when sales and marketing don't align on the audience, everyone becomes a target and no one is a priority. This doesn't allow for efficient marketing planning and execution, or the thoughtful consideration of marketing's influence on customer loyalty and advocacy. Both teams will be much better served when they can agree and prioritize the ideal buyers. 
To do this, it's helpful for sales and marketing to align on Ideal Customer Profiles, detailing out personas, customer needs, and buyer journeys. In addition to prioritizing marketing investment toward meaningful engagements, when sales and marketing both understand the challenges buyers face, they have the same talk track for how the company's solutions can address them. 
Coordinating Messaging & Positioning to inform Marketing Collateral and Sales Enablement at all Journey Stages
When sales and marketing are communicating without a shared messaging framework, the value statements and differentiators typically differ and that leads to buyer confusion—extending the sales cycle and reducing conversion. Instead, both teams should ladder up to a shared messaging framework for the company, products and even feature releases. 
The marketing team may drive messaging and positioning, but the sales team (and customer success team) have a front row view into buyers and current customers during the evaluation and decision stages.  It's essential that marketing incorporates insights from these teams into the frameworks and materials that are developed  to effectively communicate what the company has to offer.
A partnered approach may not just be wishful thinking; it may become the new paradigm. Gartner predicts that by 2026, B2B organizations that leverage what it calls an "orchestrated customer engagement" model will outperform their competition in revenue growth by 50%. If nothing else, that should give sales and marketing teams pause to think about the true cost of continued animus versus a new chapter of accordance.